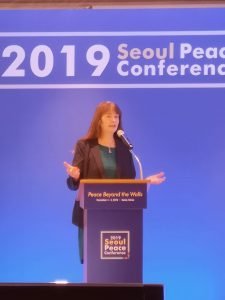 I have been speaking for 20 years, all over the world, and with very varied audiences. For example, just the last few years I have given a talk at a Peace convention in South Korea, spoken at many schools in Tower Hamlets, given a keynote at a conference in India, a business in London, and a mediation conference in Scotland.
I am now speaking online and get in touch if you would like to hear how it is possible to harness  the gift out of uncomfortable conflict.
If you would like to know how it is possible to bring something positive out of the most negative events
How you would like to give up blame and instead learn to empathise.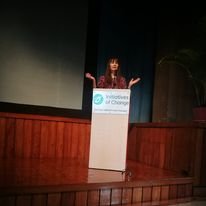 Jo is a real force of nature. She touched the hearts of our participants and created a real shift for the group. Her gentle voice comes with a powerful message that moves one to the core and into action. Thank you Jo!

Fritz Lensch Reinventing Leadership- Facilitating Breakthroughs.

After hearing you speak I have had a epiphany moment and now have hope where there was despair. MB
Jo Berry is one of the bravest, humblest, most remarkable people I know. Take the opportunity to learn from her #understanding #compassion

JOHN STURROCK QC Founder, CEO and Senior Mediator at Core

Jo Berry is one of the most profound speakers I have ever had the privilege to work with. Jo Berry attends to only speaking from her heart, with vulnerability and courage that allows each person who witnesses her to feel they too have permission to speak from their Hearts. Jo is a rare gift to the world and a speaker that will leave you wondering where your own courage lies to speak as she does.

Sandra Barefoot – Programme Manager – The Forgiveness Project, Joint Fellow – Cambridge University, MA Creative Practice: Trinity Laban