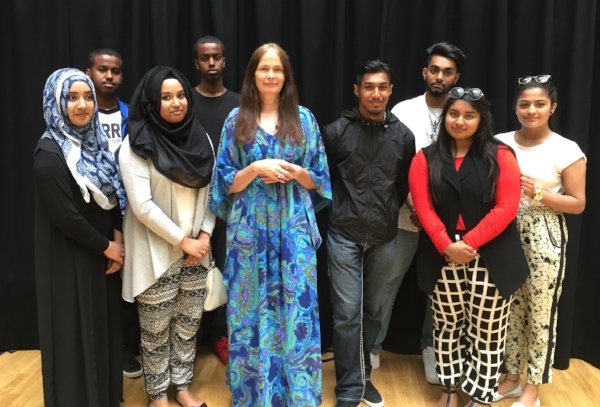 TESTIMONIALS
Saba Ali, December 2020
Jo Berry is one of the most compassionate, empathetic and dedicated people I know when it comes to working with people; empowering them to make positive change for themselves and their wider community. She listens and understands the daily struggles everyone faces and provides them with the tools to manage and build their self-confidence and know they are valued.
Her own experience means she understands even the small nuisances often missed when you haven't been through difficult times, discrimination, encountered abuse or dealt with trauma yourself.  In today's diverse society where there is so much conflict, mental health is rife, everyone deserves an opportunity to be loved, to be cared, to be treated with dignity, and to be shown equality – that is exactly what Jo gives them unconditionally and in abundance.
Chris fitzpatrick, President, irish perinatal society
"Jo has a wonderful gift of being able to make an immediate connection with her audience; she speaks directly to hearts and minds; she embodies (with great modesty) the finest qualities of the human spirit."
David Moorhead, Head of RE, Sacred Heart Catholic College, Liverpool.
" Jo Berry has visited Sacred Heart Catholic College in Liverpool. She gave talks to Year 11 in 2014 and then did a day's workshop with Year 12 and 13 in 2017. I was very impressed by her as a person, a public speaker and the positive effect she had on the students.  Jo begins each session with her own retelling of the events that led to the death of her father and how she then met his killer and started working with him to form a peace charity. It is an incredibly moving account that is very honest, calm and presented in language that all the students could follow. The students and staff were very moved and acknowledged that this was very genuine. Jo is using her voice to make a difference and the students appreciate how hard and courageous this is.
The students have their own voice but often it is centred on school life, especially exams and friendship groups in the school community. The sessions with Jo enabled the students to air their views about society. Not only did the students have passionate views on issues but they grew in confidence when they gave presentations and made protest art. I think this is great aspect of Jo's work, which may be undervalued, is her effect on young people and their self-esteem.  They really enjoyed and engaged in debate about issues that concerned them from ocean pollution, manipulation of capitalism, human rights, war, drugs and censorship. I would highly recommend Jo Berry to speak in any school as she is an impressive role model for positive action and change."
From a young person at Sacred Heart Catholic College:
"Jo Berry was a delight to meet and I thoroughly enjoyed learning about her experience with terrorism and how she overcame her battle. Her journey to forgiveness was inspiring and it was refreshing to hear someone use peace and forgiveness rather than revenge in order to receive closure over the death of a loved one. Her views on how to react when you have been affected by terrorism made me look at current events in a different light and perspective. Jo was very accepting of all types of people and she repeatedly stated that she believed that young people are capable of changing the future rather than destroying it, which is not a common conception of youth among an older generation. The fact that she had faith in all of us gave me motivation to make a change in the world no matter how small that may be."
Iain Kilpatrick, Headmaster Sidcot School
"Jo Berry led a series of empathic peace building workshops for all members of our senior management and tutor teams.  This was a voyage of discovery for all concerned and although some came with some degree of apprehension, this was quickly dispelled by Jo's calm, engaging and authentic approach.  She was able to be challenging whilst maintaining a safe space in which colleagues could share their experiences and explore their professional relationships and interactions.  The impact of Jo's work with us lives on and has enriched the quality of understanding amongst our pastoral staff and created deeper relationships with students.  I would recommend Jo and her work without reservation."
Shahda Khan MBE | Strategic Cohesion & Migration Manager| Supporting Communities
Jo Berry was the key note speaker at our 'Love Your Neighbour' event and her contribution was definitely the highlight of the day! We received so much positive feedback most of which commented on  how timely and necessary Jo's story is,  especially in the current climate.  The simple yet compelling way that Jo shared her story was very impactive and reduced many of the very diverse audience to tears.
The workshop that Jo delivered to the Students at Acklam Grange will stay with those young people for a very long time. The students had an opportunity to hear a credible, alternative voice and were able to ask questions in a very safe space. These workshops are an excellent way of engaging young people on a very challenge and emotive subject.
    Louise Ash Organiser Meaning Conference 2016
Jo's story is a remarkable one that has a profound and palpable effect on audiences. Her quietly powerful and authentic delivery underpins the message beautifully. At a time when compassion and empathy is so very much needed in our divided societies this story will make a valuable and thought-provoking addition to any line-up."
'It was interesting to see how people who have been hurt hugely by someone can forgive that person and be able to offer sessions for students sharing their experience. It makes me think of people who have hurt me in the past and I how I have held a front and not been able to forgive them. Thinking of Jo's  situation made me realise no matter what happened in the past, there is always room for forgiveness in order to help the greater good. The session was really helpful and I really hope other students get the chance to hear about Jo's  experience so they can learn a significant skill in life.
       Young people from  Langdon Park School
  Yehya
"The session with Jo taught me how holding grudges can only hurt yourself.  This is something that we all should be taught; how we make mistakes but we should learn to move past these mistakes and give people second chances. Because making mistakes and wrong choices is what makes us human."
   Fahmida
"The session delivered by Jo was truly uplifting and inspiring. It has given me a greater understanding of the good that can emerge from even the worst situations. At first sight we were all shocked over the fact that two individuals in their position could be good friends, but eventually came to understand why. Jo helped every single student that day understand just how hard a situation like hers can be to deal with and just how much kindness and forgiveness she herself must have. I believe that these kinds of sessions could have the biggest impact on the young people of the country. They could help keep young people on the right paths so that they wouldn't resort to violence or extremism and, instead, would work to prevent it in any way possible, just like we want to do now."
  Reece
"With the current political situation of very polar arguments, I found it incredibly inspiring to hear Jo speak with great honesty and forgiveness. For the young people there to be able to witness that, I hope showed them the massive potential there is for apparently normal people to do amazing things, and how the power of humanity and friendship can transform."
  Sean Rumsey (Lead on behaviour support in the school)
"I have been blessed enough to meet many amazing people in this world, but Jo truly astounded me with her level of compassion and sincerity and dedication to this work.  I can't even imagine being able to do it. Conflict is so often seen in black and white, and I tend to see the world that way as well. But Jo helped me to see that conflicts are almost never a matter of right vs. wrong, but perspective vs. perspective. She was brave enough to listen to the pain of someone who caused her unimaginable pain, and she uses that to touch other people's lives everyday. She is an inspiration to us all, and I am so happy to have had the chance to speak with her."